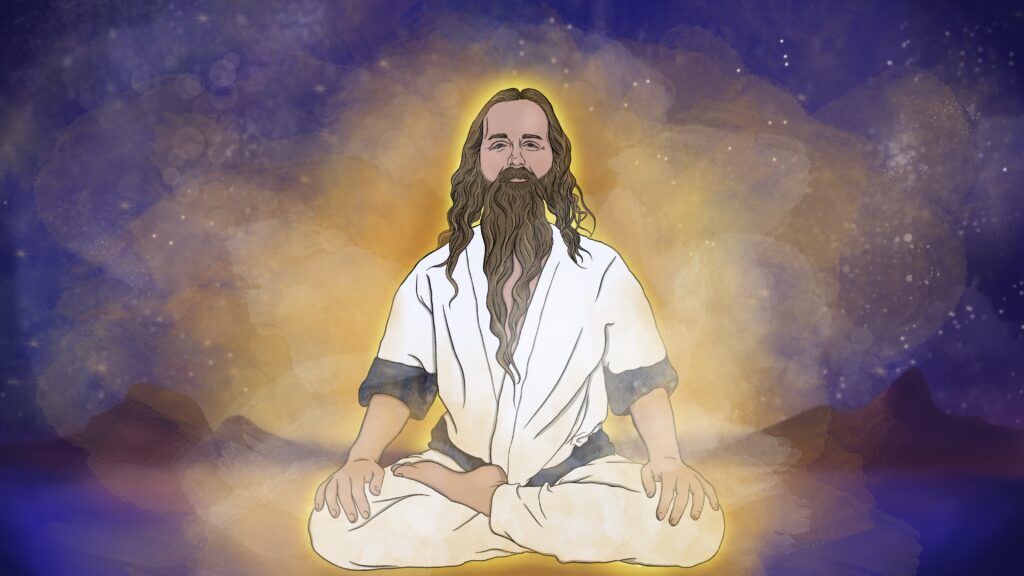 I'm a lifelong mathematician who relates to math as a mystical and existential exploration into the nature of the universe and ourselves. I was born in Johannesburg, South Africa and immigrated to Seattle at the age of three. Always encouraged by my family, I began my love of mathematics as early as the age of five, when I would solve mathematical puzzles at the Seattle Science Center.
I always felt something magical in mathematics. I didn't ever feel as if math was in a book, I felt that it was out there in the stars. I'd gaze at the stars inspired by a future where I would know this world and universe, and I felt that many of the answers would be in mathematics. Mathematics is eternal, having always existed in potential. It is the word of the universe, waiting to be heard, an eternal cosmic reverberation through time. Mathematics is universally ubiquitous, it is within the very fabric of creation, it is the structure of potentiality and dimension itself. It informs the myriad of forms that color the great expanse of eternity. I never felt like mathematics was in my head. Looking up at those stars on those early summer nights, I felt mathematics was in my heart, and I was out there with it.
School was difficult for me at times. It was the first time I became disenchanted by culture. My family was different culturally: we had accents, we were Jewish, and we had South African family values. I knew love in my family, but school didn't feel like love. It was also clear to me that at school they did not understand mathematics as I knew it to be. I had to go to the board and perform some steps that all the other kids seemed to know, steps with numbers that seemed to have little to do with mathematics as I knew it. I was being told what to do and without knowing why.
I continued with my love of mathematics and participated in math competitions, attended computer science courses at the University of Washington at the age of 15, and did an internship at Microsoft for two years while in high school. Math didn't come easy to me, not in the way it was taught and presented. After completing a degree in Physics at the University of Washington, with questionable grades despite my love of the subject, but grades good enough to pass, I moved to Los Angeles and started a math and science tutoring agency.
I always loved to share my passion for mathematics and physics. Dinner table talks on the subject were my favorite, and I felt that anyone could understand the more advanced concepts without needing years of background conditioning. When I discovered that people would hire me to talk about math, share math, and help them understand it, I was so excited and dove in completely. Within two years I had a completely full schedule teaching math and physics, and within another three years I had employed 250 tutors in 13 cities across the country.
I learned more about math teaching math than when I was in school. In school, they go too fast, and we don't get the chance to sit with the subtle nuances of mathematics and really absorb them. It takes multiple iteration of contemplation for just about anyone to really get these concepts, especially since they are not taught to be comprehended, but rather to be applied. Tutoring for 5,000 hours at about 1,100 hours a year, transformed me. It was an immersion. I was seeing mathematics everywhere. With each student I taught, I had to see mathematics from a different perspective and this was invaluable and the catalyst for my growing comprehension. Eventually concepts started to click in ways I had not anticipated.
But it wasn't right. My students were learning to apply mathematics and weren't interested in what I really wanted to share, which was to comprehend mathematics. It was the system that prioritized rote technique and students were locked in to performing to succeed on this level. I couldn't do it anymore. It was about this time that I met my spiritual teacher and dissolved my company to focus on meditation. I lost touch with mathematics for a couple years.
Meditation, not just in the standard sense, but mystical meditation, which I had encountered and found to be an epistemological (study of knowledge) paradigm shift, allowed me to know the universe directly with my own consciousness, something I was seeking with mathematics and physics, but that was infinitely more direct. It allowed me to not be limited by the cultural heritage of mathematics stored in the intellect and experience love and knowledge in the planes of light, the light of awareness itself. I was entranced by this new form of knowing and transformation. Also, it helped me overcome many of my human limitation and evolve into maturity, unlocking a deeper wisdom and new intellectual faculties.
A few years after meeting my teacher and meditating, I began to revisit mathematics with all that I had seen. New spiritual principles and a great deal of lucidity had informed my relationship to mathematics and I set the intention to elucidate each concept of mathematics in the following way. See each concept as one singular movement of self-evident, incontrovertible, mathematical truth. I discovered, that math is truly elegant, that it can be seen as a singular movement, and that by connecting with math in this way, I was approaching math in an all together novel way that is completely foreign in today's mathematics education.
I now live in Santa Monica, CA, and spend the majority of my time studying and cultivating my spiritual practice, which includes mathematics, and bring all that I can to my students of The Heart of Mathematics and The Genius Club.